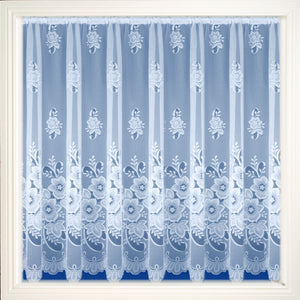 Cassie White

Net Curtains

Available Drops :
36" / 91cm
40" / 101 cm
42" / 106 cm
45" / 114 cm
48" / 122 cm
54" / 137 cm
60" / 153 cm
63" / 160 cm
72" / 183 cm
81" / 206 cm
90" / 229 cm

Beautiful Traditional Floral Net Curtains With A Scalloped Base

Slot Top Finish Which Is Suitable For Use With Most Net Rods
Pick Required Drop Length Using The Drop Down Menu
Sold And Priced Per Metre eg, Quantity 1 = 1 Metre, Quantity 3 = 3 Metres
Chosen Quantity Will Be Sent As One Piece
Cut Ends Will Not Be Hemmed
100% Polyester
Hand Wash
Matching Accessories Available In Our Store
Ordering Guide:
1) Measure your window, you need the width and the drop (length)
2) Select the required drop from the size menu. These are approximate sizes only and may vary slightly.
3) Calculate the amount of gather you require. The recommended gather is double the width of your window.
eg. Your window is 1m wide, you would purchase 2m for the standard double gather, so you need to select your drop and then put 2 in the quantity box.
If you would like more privacy, you would need more gathers and we would recommend triple the size of your window. So in the above example, you would put 3 into the quantity box for 3m of net.
If you have a half number once you have calculated your required gather, please round up or down as we only sell these to the full metre. So if your window was 1.5m wide, and you wanted triple the gather, you would have 4.5m, and so you would either put 4 or 5 in the quantity box. 
We will cut as one continuous piece for each item selected.
4) For multiple windows, please select the drop and quantity, add this to your cart and then come back to the listing to add the next size. 
If you need any further assistance with ordering these nets, please do not hesitate to get in touch.
Please Note :
All sizes are approximates only
Pictures are for illustration purposes only and colours may vary slightly
All nets are cut to order and so are personalised to your requirements, and are therefore not eligible for return