Table Cloths
Whether you want to dress your table for everyday use, a festival, special occasion, wedding or party, we can provide the right cloth for you. With a range of both fabric cloths and vinyl wipe clean cloths, there is something for everyone.
Table Cloths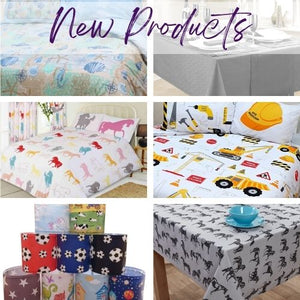 New Products
Come take a peek at our latest products, all in stock and available for immediate dispatch.
New Products
Horse Range
Are you or do you know someone who is a fan of horses and horse related products? Look no further than here for some beautiful products to bring some equine love into your home
Equestrian / Horse Collection
Welcome to Elegant Home
We are a small family run business based in the Midlands, UK. Our store began with products covering the basic household textile needs such as bedding, towels and curtains. Over the years, we have slowly added new designs and collections, and we continue to evolve to create unique ranges to suit a variety of individual styles.
So whether you are looking for the most luxurious curtains, wanting to change up your child's room, shopping on a budget, or simply looking for a new tea towel for the kitchen, there's something for everyone at Elegant Home!